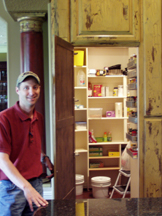 The Tradesman is a family owned and operated cabinet shop with over 2 decades of history in the construction industry.  Started in 1994 as a small one man shop using basic wood working machinery, The Tradesman developed a tradition of exceptional value and quality, personalizing the cabinet experience and guiding customers as they built new homes or updated their existing living environment.
Over the years many new clients; custom home builders, remodelers, commercial concerns and individuals have become part of The Tradesman family of customers.  New manufacturing techniques, industrial grade machinery and sophisticated design software were employed to facilitate the growth and ever changing architectural cabinet design market.
The Tradesman offers complete custom finishing service utilizing the latest finishing techniques and most current applications that represents the latest trends in cabinet and finish design and in most cases color matching.  This service provides the client with an opportunity to express their creativity and design prose for their living environment.
Employing some of the finest wood craftsmen in the industry and using the highest quality real wood products, the focus and attention to detail of custom fabrication goes into each cabinet package.  Combined with professional installation each step of the process ensures a custom fit and prompt project completion.  This turn key cabinet process eliminates errors and removes the burden of scheduling from the client.   Our goal is to exceed our clients expectations with informative interaction from The Tradesman staff.
Today The Tradesman is a respected and revered cabinet manufacturer serving clients throughout Walker, Montgomery and Harris counties.